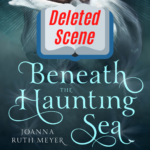 In about the first six or seven drafts of Beneath the Haunting Sea, there were scenes from multiple POV characters. I ended up streamlining to focus only on Talia's POV, which meant losing some lovely angsty Wen scenes.
Here's an early Wen chapter that takes place before Talia arrives at the Ruen-Dahr:
Wen's Chapter

His shoulders ached from the beating.

He'd never seen his father so angry, or his brother either. For half a moment, he thought they would kill him. But his father had Ahned beat him, instead, like he was a wayward child, like he was a liar and a fool.

Like he was the kind of person who would stir up memories of his father's grief just to mock him for it.

But Wen wasn't that kind of person. And it was his grief, too.

Wen slammed his fist into the side of his raina, the harpsichord-like instrument in the corner by the window. He cursed at the pain that shot up his arm. He cursed by the nine gods and their Servants. He cursed by the god who was above them all.

His father and brother didn't believe him, not one word.

Wen jerked up from his bench and paced the music room, tearing books from the shelves and flinging them at the walls, grabbing sheafs of music and ripping out the pages. The symphony he was working on lay starkly on the raina's music stand, mocking him. He cursed that, too.

He hadn't lied. He tried to show them. Why couldn't they see? He wanted to give them the comfort he'd found, to explain why he had to stay here instead of going to University.

He flicked his eyes back to the symphony, the notes marching smartly across the staves. It was all wrong. He'd never successfully been able to capture the music that lived in his head. University was supposed to fix that. And now—

"Gods damn it," said Wen fiercely. He grabbed the sheets of music from the raina and shoved them into the fire. He watched as they burned to ash.

He looked around him in a daze at the wreck he'd caused in his own sanctuary.

He'd never felt more alone.

***

Caiden left without saying goodbye, but Wen didn't care. Wen watched him go from the window in the vestibule, anger hardening in his mind as his brother's black gelding disappeared down the drive.

His father closeted himself upstairs, so Wen ate alone in the dining room at the long wooden table beneath the window looking out into the garden. Ahned brought him his dinner. He didn't apologize for the beating.

Wen was too angry to eat. He picked at the rice and roasted game hen without tasting them, and stared blankly into the fire. Music echoed in his head. It clamored to get out.

But now there was no University. He would have to wrestle the notes down himself, or not at all.

I could still go, his thoughts screamed, They would still take me. This doesn't have to be the end.

This moment he could go to his father, tell him he'd changed his mind. Hell, tell him the beating had knocked sense into his head and beg forgiveness. His father would nod gravely, accept Wen's apology as a matter of course.

And then Wen could go down to the music room and start packing for University. In another few months he could be on a ship to Od. If the gods willed, he would never have to lay eyes on this cursed house again. He could leave his father and his brother to their misery, and their ghosts.

He shuddered. He stood up too fast and a fresh wave of pain splintered through his shoulders. How dare his father have him beaten like a runaway servant! Why didn't he listen? Why didn't he understand? Did he think it was easy for Wen to give up University?

Ahned appeared in the doorway of the dining room, and Wen glared at him.

"Your father wishes to speak with you," Ahned told him.

"Hasn't my father done enough for one day?" Wen stepped past the butler and out into the hall, but Ahned caught his sore shoulder and jerked him back. Wen yelped in pain.

"Your father wishes to speak with you at once," Ahned emphasized, fingers digging hard.

Wen cursed and struggled free.

Ahned regarded him without sympathy. "You've upset him, you know. Hurt him deeply."

Wen clenched his jaw. "I was telling the truth."

"You were opening old wounds. Upstairs. Now." Ahned raised an eyebrow, wordlessly reminding Wen that he'd been the one to inflict his father's punishment, and would not hesitate to do so again.

Wen swore at the butler, and went upstairs.

***

Wen stepped into his father's sitting room, every muscle tense, ready for another confrontation.

But the rage had apparently gone out of his father. The Baron sat in his favorite armchair pulled up close to the roaring fire, a patchwork blanket laid across his knees. Outside the window the first stars were appearing over the hills.

It was far too hot in there for Wen; the air seemed to smother him. But his father preferred it warm—winter seemed to cling to him far into the summer.

Wen stopped still just inside the doorway, his stomach roiling. He clenched and unclenched his jaw, willing himself to be outwardly calm. His father's eyes flicked up to meet his.

"Well then, boy," he said. "Don't just stand there. Come and sit down."

Wen paced over to his father, but he didn't sit in the adjacent chair. He preferred to have the higher ground, and sitting hurt his bruised back. "What do you want, Father?"

The Baron reached for a sheet of paper that lay on the end table. "I've had news from Enduena."

Wen bit back a curse. He'd never cared for the endless accounts of political nonsense his father received every so often from the seat of the Empire, and he certainly didn't know what relevance they had now.

His father glanced down at the paper, then back at Wen. "It seems the Emperor is dead, and his daughter has taken his place on the throne. She requests I swear fealty to her from my office as governor of Ryn, and she's made it… well worth my efforts."

"You mean she's bribed you." Wen shifted his weight onto his other foot.

"She's compensated me for housing two wayward members of her court."

Wen was getting tired of this. "Come to the point, Father."

His father frowned, and Wen tried not to squirm. He wouldn't have been so disrespectful, but he doubted his father would have him beaten more than once in a day.

"The new Empress is sending a disgraced Countess and her daughter to the Ruen-Dahr. She will be compensating me annually to have them live here."

Wen frowned. "For how long?"

"From what I gather, she means for them to stay forever."

Eternal house guests. Wonderful. "When are they expected to arrive?"

"A week or two, I imagine. The Empress's letter came by courier fleet, but they can't be far behind."

Gods above, he wished he was going to University.

"And it's lucky you're not going abroad after all," his father continued, pulling the thought from his head.

"You certainly thought differently earlier," Wen retorted.

Thunder awoke on his father's brow, and he stood slowly, letting the patchwork blanket slide to the floor. Standing, Wen's father had six inches on him, but he shook slightly on his feet, belying the illness that had plagued him since his wife's death. And what made him order Ahned to beat Wen instead of doing it himself.

"You will show me some respect, boy," said his father.

Wen hated that he still feared him, but he bowed his head. "I'm sorry, Father."

"It's lucky you're not going abroad after all," the Baron repeated, "because the Empress has requested something else that concerns you."

"Me?"

His father showed him the letter.