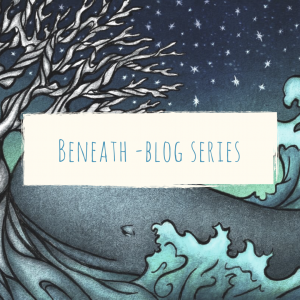 Hi everyone, and happy Monday!
Today begins my blog feature "Beneath," a weekly-if-I-can-manage-it series of behind-the-scenes tidbits and sneak peeks at Beneath the Haunting Sea, as well as any news related to its upcoming release! So without further ado, let's get to it.
Days Till Release: 105
News: There will be a book launch for Sea on January 11th at Changing Hands in Tempe, AZ! So excited about this! Details on the Events page (and more as we get closer).
Coming soon: ARC giveaway! I'm currently gathering cool swag to go with it—look for the giveaway next month!
_____________________________
Today I want to talk a little bit about music. One of Sea's central characters, Wen, is a pianist and composer, and he's always working on his symphony, trying to capture the music he's heard in his head since he was a child.
I'm a pianist myself and have done some composing, too, although I've never attempted anything as ambitious as Wen's symphony. I imagine Wen's music sounds a lot like Chopin and Rachmaninoff and Dvorak. Chopin was referred to as "the poet of the piano", and I think of Wen as his world's Chopin.
Part of Sea's inspiration was the band KEANE's Under the Iron Sea—it came out the summer of 2006 when I was first outlining, and I couldn't get enough of the fairytale-like quality of the songs or the melancholy nature of the album as a whole. I also drew inspiration from world-folk artist Loreena McKennitt; I love her gorgeous, haunting melodies, and the weight of age and history her music evokes in the listener. Both these artists' music inspired story elements and even a few scenes in Sea.
And now, for your listening pleasure:
Until next time,
Joanna 🐋
SaveSave
SaveSave
SaveSave
SaveSave