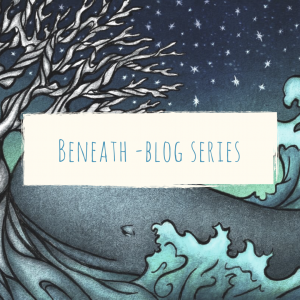 Hello everyone, and happy Monday!
Days Till Release: 98 (OH MY GOSH WE DIPPED UNDER 100 AND I WASN'T PAYING ATTENTION!!!)
News: I am absolutely THRILLED to share the Kirkus review for Sea, which they said was "Epic, musical, and tender."
Coming Soon: That ARC giveaway! I'm still gathering swag. 😃
___________________________
Today's topic is:
The Multitudinous Drafts of the Book Formerly Known as The Whale and the Tree
November 1st-30th, 2006 – After brainstorming and outlining extensively, I fast-draft Whale during NaNoWriMo, and end up with 104K of a book that is 50% crying, 50% staring out of windows, and 100% crying while staring out windows (okay, it wasn't quite that bad… but it was pretty bad).

2008 – I revise Whale, and somehow it swells to 118K (I believe I go through several drafts here). I begin to query it very late in the year.

2009 – I query while working on other projects.

2010 – I put Whale aside and write, revise, and query a new project. That summer, I receive a very thorough R&R request from an agent who had asked for the full a year previously. She has great advice, but my brain has moved on.

2011—2012 – I continue to query the new project, whilst happily side-tracked falling in love with, getting engaged to, and marrying my awesome husband.

2013 – I randomly start a complete rewrite of Whale.

January 2014 – I meet my critique partner Jen Fulmer through a Twitter matchup event, and we start exchanging chapters of our WIPs—mine is Whale. Her enthusiasm spurs me on to finish the revision. It has a completely different ending now, 70% less crying, and one less viewpoint.

August 2014 – I finish the rewrite and begin querying. I get a lot of requests, which is really exciting.

March 2015 – I get FOUR offers from agents, and sign with the wizardly Sarah Davies.

May — September, 2015 – I rewrite Whale two and a half times. We're down to one viewpoint, 89K, and a vastly more coherent plot. A death that previously occurred halfway through the novel is moved up to near the beginning. We're minus one betrothal, plus one ancient temple.

September 28th, 2015 – The newly renamed The Haunting Sea goes out on sub.

November 2015—January 2016 – I get an R&R request from an editor, and set about revising again, adding in a few elements that bring higher stakes to the story.

June 2016 – Interest from Page Street, hoorah!

August 2016 – I write three brand new beginning chapters for Page.

September 2016 – Official offer!!! 💃🏼💃🏼💃🏼

January 2017 – Edits for Page Street, including a new best friend, new epilogue, and newly-invented, world-specific swears (Caida's teeth!!). Word count about 97K.

Spring/Summer 2017 – Copyedits, pass pages.

November 2017 – Beneath the Haunting Sea turns eleven!

January 9th, 2018 – Publication day!!!
So there you have it—the ridiculously long timeline of how Sea came to be.
Until next time!
Joanna 🐋
SaveSave
SaveSave