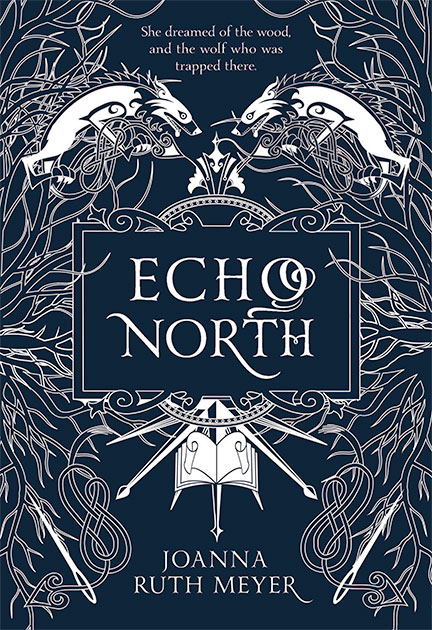 Hi everyone! If you missed the cover reveal for ECHO NORTH last week, you can go here to see it in all its glory (includes an excerpt + ARC giveaway, which runs for another week!!).
Today, I'm so excited to reveal two pieces of original artwork I commissioned from my friend Danielle Pajak for Echo North! I asked her to create something in the same vein as the piece she did for Beneath the Haunting Sea (which you can see on my homepage!), and she more than delivered. I adore the colors and style, the expression on the wolf's face, the silhouette of Echo in the mirror, the mountains and stars and swirling winds—just everything! 😍
Without further ado, here it is, plus a little mini excerpt!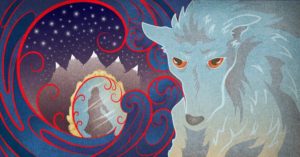 The night before my father and Donia were scheduled to arrive home, I paced a little deeper into the woods than usual, and settled myself beneath an ancient elm that was knotted and gnarled yet still bursting with leaves. I rested my head awhile against its trunk, and when I looked back into the clearing the wolf was there, not ten paces from me. His eyes were amber, flecked with gold, and the edges of his white fur ruffled in the light wind. He came toward me, his back leg dragging a little behind. He was near enough when he stopped that I caught his scent: wild honey and deep grass and dark earth. — Excerpt from Echo North, coming January 15th, 2019 from Page Street YA
I also asked Danielle for a compass, which is SO gorgeous I can hardly stand it: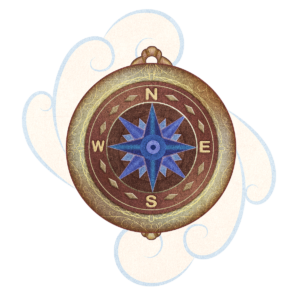 Thanks so much to Danielle for her amazing work! Be sure to look for future swag giveaways featuring her art, and don't forget to enter the ARC giveaway!
Until next time,
Joanna